About the Project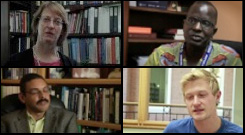 The United States is home to about 40 million legal migrants and nearly 12 million undocumented immigrants, making it the largest recipient in the world. North Carolina's immigrant populations are among the fastest growing: about 650,000 foreign-born residents, 6.8% of the population (US Census), and about 325,000 illegal immigrants (NewsObserver), including about 51,000 youths brought here by their parents. Given this human reality, a reasonable, compassionate response is central to the development and sustainability of a society where newcomers and natives can participate, communicate, and engage with each other to build communities. 
The Where Are You From? (WAYF) Project collects interviews, narratives, examples, and experiences of migration and mobility from students, faculty, staff at Wake Forest University and from permanent residents, green-card holders, foreign-born naturalized citizens, as well as undocumented residents, refugees, and US citizens in Winston-Salem, High Point, Greensboro, North Carolina, and the surrounding community. 

The Where Are You From? Project encourages a new approach to understanding immigration, with a renewed focus on the lives and experiences of those who are already here.
This project is made possible in part by funding from the North Carolina Humanities Council, a statewide nonprofit and affiliate of the National Endowment for the Humanities.